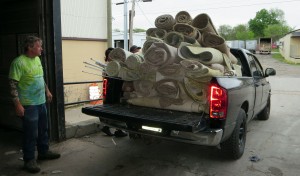 The easiest way to recycle your used carpet is for your carpet installer to take it to the carpet retail store or one of our collection sites. For the recycling of Post Consumer Carpet and Pad it must meet the following requirements:
• We accept dry carpet or pad
• Rolled residential carpet accepted
• Commercial carpet accepted only with prior approval
• Maximum 6 feet for width of carpet in rolls
• No rubber backed carpet or rubber pad
• No carpet tile without prior approval
• No tack strips, nails, staples, knife blades or rigid flooring
• No wet glue, debris, refuse, rocks or caked mud
• Minimal loose dirt
• Absolutely no co-mingled refuse accepted
Carpet and pad from individuals, carpet installers or registered refuse haulers can be delivered to Southeastern Recycling – or one of our other collection sites as shown on the links below. For special collections or transportation of large and regular quantities please contact Southeastern Recycling – for information on alternative collection methods. Southeastern Recycling still does reserve the right to refuse out-of-spec material. Most of the remote collection facilities charge a drop-off fee to cover administrative and handling expenses. At these sites you will need to transfer your carpet to the trailers or containers at the site. Transfer assistance is not generally available at collection sites.